ITALIANO
90s!
Buongiorno Raggi di Sole!
Oggi vi mostro l'outfit di sabato sera. Apericena in centro e poi a ballare in un locale informale molto carino, ricavato da cantine. Ma soprattutto, tante risate con Stefano e amici…del resto la cosa più importante è l'amicizia (quella vera!!), no?? ;)
Per l'occasione ho rivisitato un look streetstyle, un po' Sandy Olsson (Grease!), un po' grunge Anni '90. Salopette boyfriend (VISTA QUI, INSIEME AI MIEI PRIMI ACQUISTI SHEINSIDE.COM) a vita alta e crop top (e la pancia è stata nascosta!! Ahahahah!!) in velluto nero. Scarpe: decoltèe nere (VISTE QUI, IN QUESTO OUTFIT ROMANTICO o QUI, CON TANTO GIALLO), evergreen di (quasi) ogni epoca. Dettagli grunge dati dalla collana con borchie in simil pexiglass (VISTA IN UN OUTFIT CASUAL DAI DETTAGLI ECCENTRICI) e dalla maxi pochette olografica (VISTA QUI, AL MIO PRIMO EVENTO ITALIA INDEPENDENT). A completare l'outfit l'eco-pelliccia colorata e i capelli tirati indietro con la cera. Insomma: cool e trash si mixano tra loro in perfetto stile Nineties :D Amo lo streetstyle vintage ;)
Ecco le foto. Aspetto le vostre opinioni :)
Baci, Ilaria
————————————————————
ENGLISH
90s!
Good morning Sunshines!
Today I'll show you the Saturday night outfit. Happy hour in downtown and then go dancing in a very nice casual pub, obtained by a canteen. Above all, a lot of laughing with Stefano and friends…then, (real) friendship is the most important thing, isn't it? ;)
For the occasion I revisited a street-style look, with a bit of Sandy Olsson (Grease!) and a bit 90s grunge. A pair of high waist boyfriend dungarees (SEEN HERE, TOGETHER WITH MY FIRST SHOPPING AT SHEINSIDE.COM) and a velvet black crop top (and the belly has been hidden!! Hahahahaha!!). Shoes: black pumps (SEEN HERE, IN THIS ROMANTIC OUTFIT or HERE, WITH A LOT OF YELLOW), a real evergreen of all times. Grunge details given by the fake pexiglass studded necklace (SEEN IN A CASUAL OUTFIT WITH ECCENTRC DETAILS) and the holographic maxi purse (SEEN HERE, AT MY FIRST ITALIA INDEPENDENT EVENT). To complete the outfit I put a colored fake fur jacket and combed back my hair with some water wax. In few words: cool and trash meet each other for a perfect Nineties style :D I love vintage streetstyle ;)
Here the pics. I'll wait for your comments :)
xoxo, Ilaria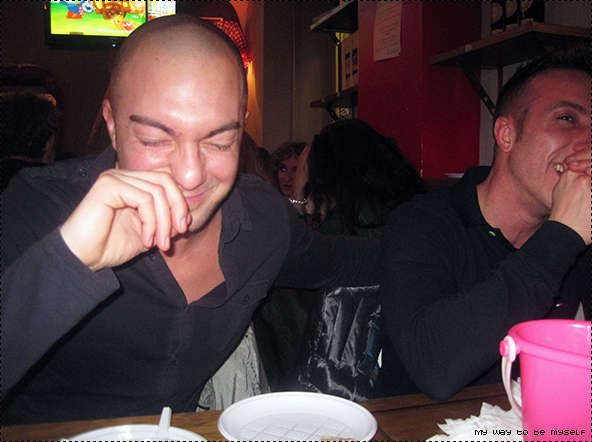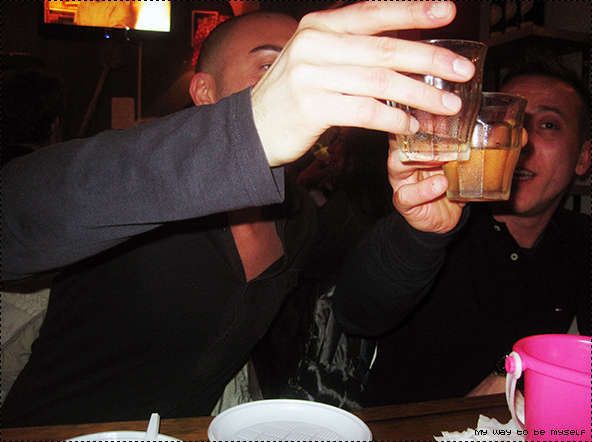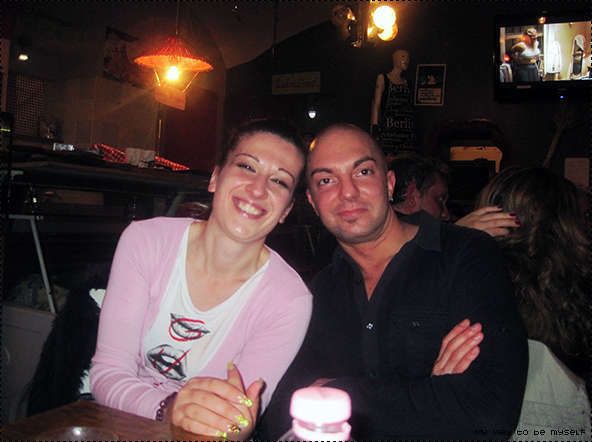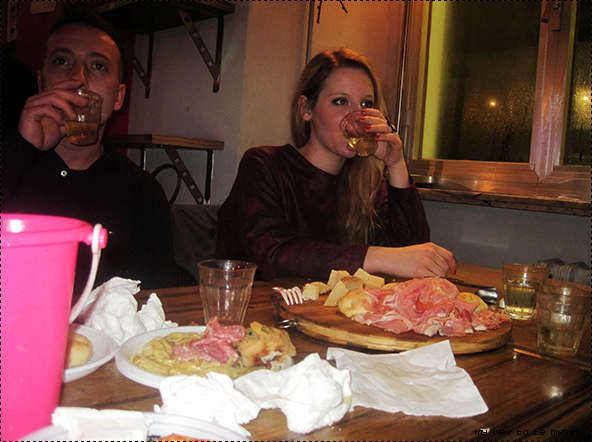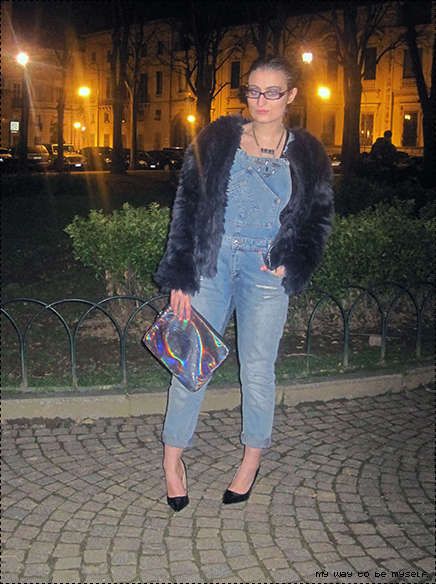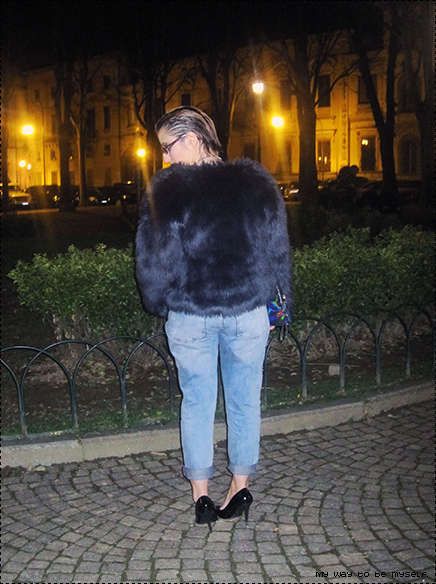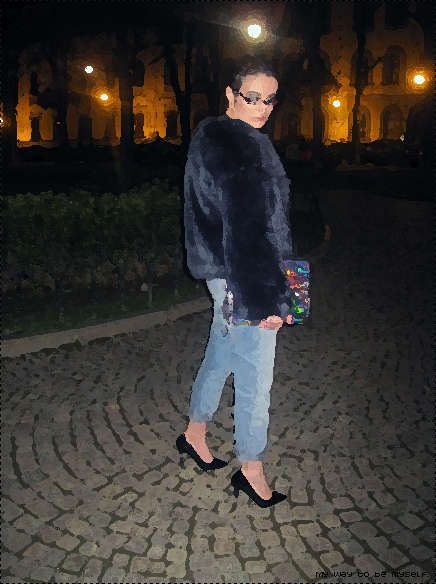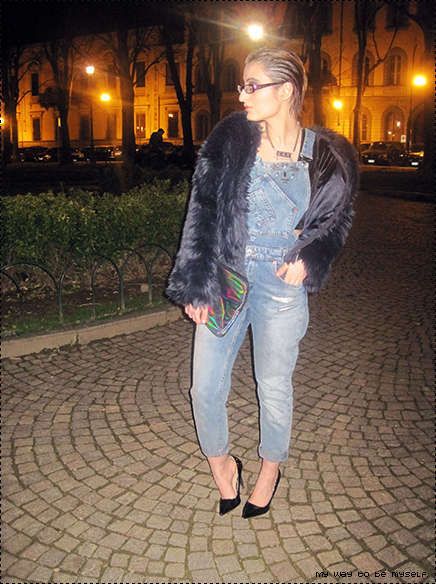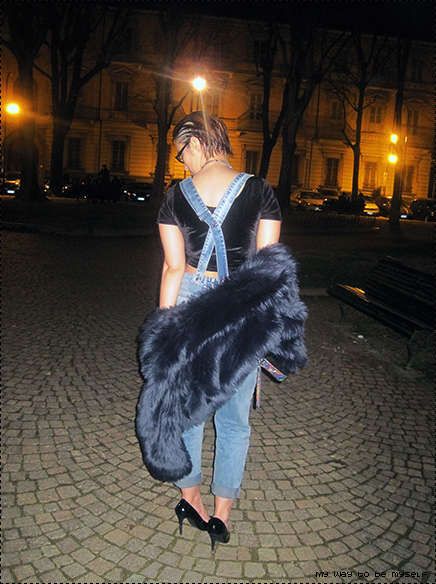 OUTFIT
DENIM DUNGAREES Pull&Bear (a/w 13-14 collection)
VELVET CROP TOP Tally Weijl (a/w 13-14 collection)
FAKE PEXIGLASS STUDDED NECKLACE Tally Weijl (a/w 13-14 collection)
PUMPS Zara (a/w 13-14 collection)
FAKE FUR JACKET Zara (a/w 2012 collection)
HOLOGRAPHIC MAXI PURSE Terranova (2013 collection)

Click to vote me
on Chicisimo.
VUOI LEGGERE ANCORA? | READ MORE?