ITALIANO
OOTD: MIDI SKIRT, CROP TOP E UNA COLLANA SPIRITOSA
Ricordate LA PRESENTAZIONE DELL'ULTIMO LIBRO DELLA FOOD WRITER CSABA DALLA ZORZA? Oggi vi mostro l'outfit indossato per l'occasione, partendo dagli accessori :)
Il pezzo forte è senz'altro LA COLLANA DELL'ESTATE CREATA DA RUNWAY LA DONNA E FIRMATA LE PALLE. Si tratta di una semplice catenella con un grosso ciondolo in cartone coloratissimo e sfizioso. Ogni pezzo è poi personalizzato da una serie di frasi fatte apposta per lanciare messaggi a qualcuno ;) "Non sei tu, sono io", "Un minuto e sono da te", "Avevo il telefono silenzioso" e così via. La mia è fatta apposta per gli sbadati, quelli che si dimenticano anche la testa, come me :) "Non mi sono dimenticato" no figurati!! :D POTETE TROVARE LE FOTO DEI VARI MODELLI, INSIEME A TUTTA LA COLLEZIONE ACCESSORI (E MOLTO ALTRO) PRIMAVERA/ESTATE 2014, QUI!
Alla collana ho voluto abbinare UNA MAGNIFICA MIDI SKIRT BIANCA (VISTA QUI), un crop top blu e un paio di stivaletti borchiati. Altri accessori: IL BRACCIALE AIGNER, un altro braccialetto azzurro in tessuto elastico e una borsa da giorno con borchie e tracolla metallica.
Che ne pensate?? Baci, Ilaria
——————————————————–
ENGLISH
OOTD: MIDI SKIRT, CROP TOP AND FUNNY NECKLACE
Remember THE PRESENTATION OF THE LAST BOOK WRITTEN BY THE ITALIAN FOOD WRITER CSABA DALLA ZORZA? Today I show you the outfit for that occasion, starting with the accessories :)
The key element is THE LE PALLE NECKLACE, PERFECT FOR SUMMER AND CREATED BY RUNWAY LA DONNA, in collaboration with a design office in Turin. It's a simple chain with a big charm in cardboard, very colorful and fancy. Every piece has a common quote, like "Non sei tu, sono io | It's not you, it's me", "Un minuto e sono da te | One minute and I'm there", "Avevo il telefono silenzioso | I had the silent phone" etc. Mine is for careless people, like me :) "Non mi sono dimenticato | I haven't forgotten it" :D HERE YOU CAN FIND THE OTHER MODELS, TOGETHER WITH ALL SPRING/SUMMER 2014 ACCESSORIES COLLECTION (AND MUCH MORE)!
With the necklace, I wore a WONDERFUL WHITE MIDI SKIRT (SEEN HERE), a blue crop top and a pair of studded ankle boots, Other accessories: THE AIGNER BRACELET, another elastic one and a studded bag.
Let me know. xxx, Ilaria
---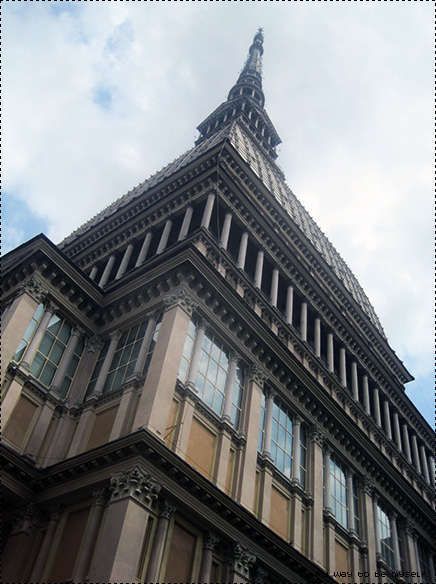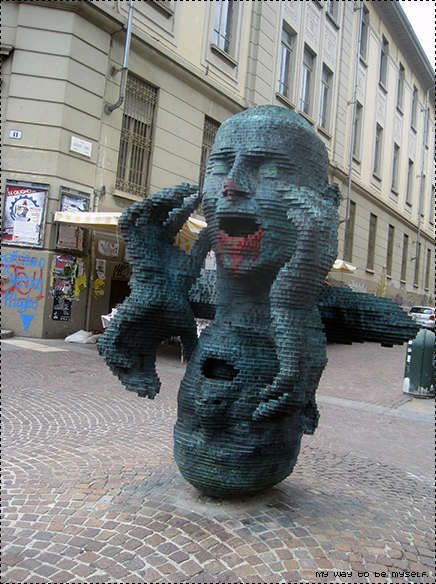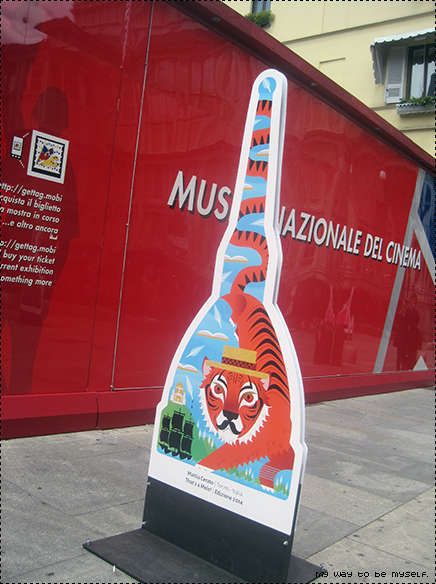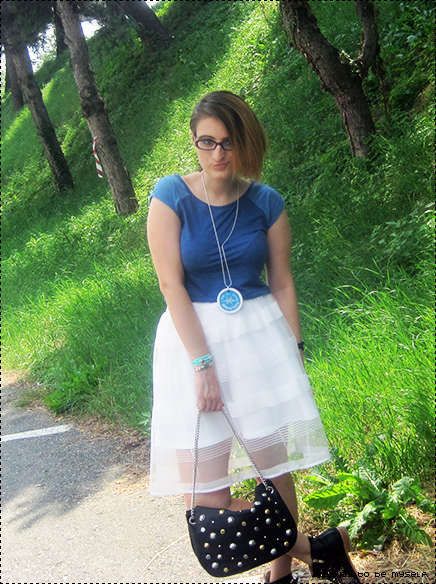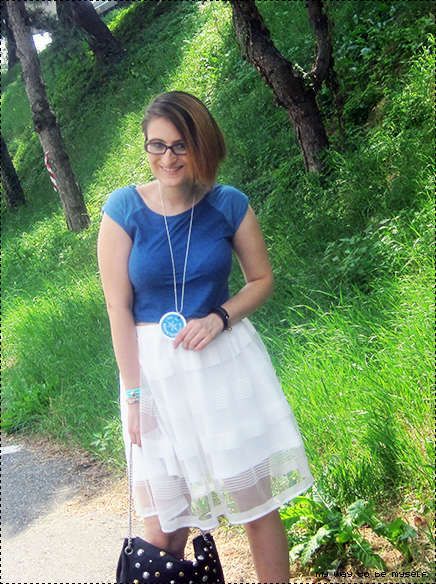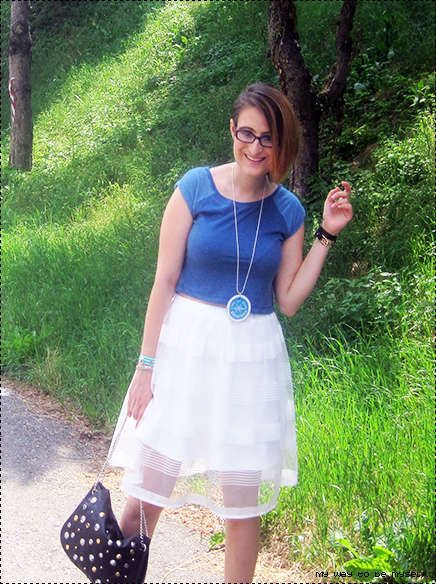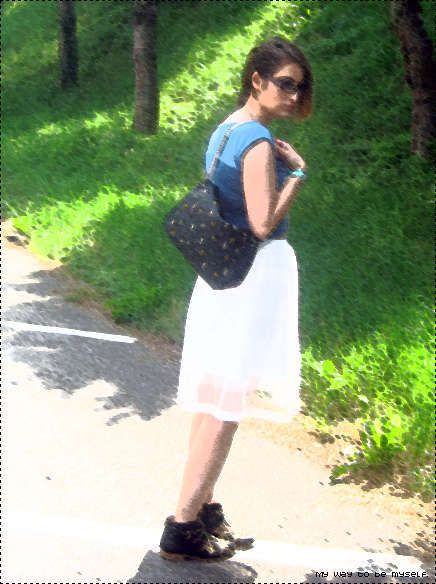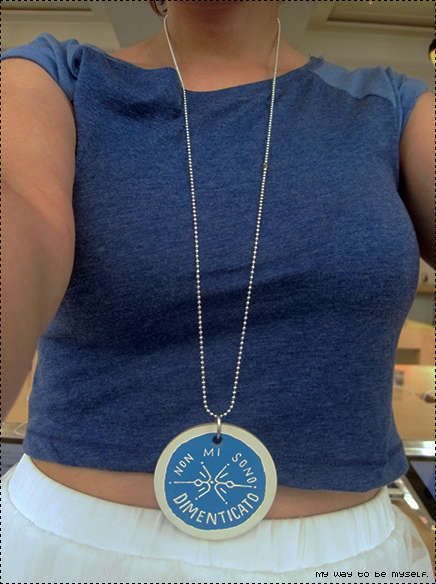 NECKLACE Runway La Donna by Le Palle s/s 2014 (GET THE LOOK HERE | HERE)
MIDI SKIRT Stradivarius s/s 2014 (GET THE LOOK | SEEN HERE)
CROP TOP Bershka s/s 2014 (GET THE LOOK!)
STUDDED ANKLE BOOTS Gold&Gold s/s 2013 (SEEN HERE)
STUDDED BAG Bernardi old ( SEEN HERE!)
LEATHERED BLACK BRACELET Etienne Aigner a/w 2014-15 preview (SEEN HERE | HERE)
ELASTIC CHARMS BRACELET Sardinian stalls s/s 2013
 k

f
---