ITALIANO
CHIODO: LET'S ROCK!
Ciao Raggi di Sole!! Oggi vi mostrerò il primo regalo di Natale più altri acquistini, in un outfit grintoso e adatto a diverse occasioni, dal pomeriggio di shopping con le amiche all'aperitivo alla serata cinema. Io l'ho indossato per un caffè/pomeriggio di lavoro (probabili novità in arrivo :o) ) Altre idee?? ;)
Curiosi di vedere altri outfit dai toni street/rock/casual?? Cliccate QUI, QUI e QUI :)
Il primo capo protagonista di questo look è questo fantastico giubbotto tipo chiodo, in ecopelle effetto trapuntato di Zara (lo potete trovare in tutti gli store Zara oppure direttamente QUI), regalo anticipato di Natale da parte del mio amore. La scelta è stata sua e appena l'ho visto è stata adorazione pura!! È morbido e adatto un po' a tutte le stagioni, sopra una maglia più pesante in inverno e con una di cotone quando fa più caldo. È nero, quindi non ha esigenze di abbinamento particolari, ma la sua texture lo rende un capo particolare e chic. Ha un unico difetto: ogni tanto ci sono filetti delle cuciture che saltano fuori, quindi fate attenzione. Sotto la giacca ho indossato una maxi gonna plissée bianca di Tally Weijl, presa in saldo pochi giorni fa, e una felpa corta più sportiva verde militare con borchiette, sempre dello stesso brand. Un altro capo nuovo è la borsa nera presa da Bernardi in saldo. Sotto i miei stivaletti borchiati Gold&Gold, che adoro. Come gioielli ho puntato su un braccialetto borchiato Tally Weijl (si vede che adoro questa marca?? :D) e una collana artigianale etnica che mi ha portato la compagna di mio padre direttamente dall'Africa.
È un mix di stili che si amalgama perfettamente…basta non esagerare :)
Non mi resta che lasciare a voi il giudizio e un po' di foto :)
xoxo, Ilaria
——————————————-
ENGLISH
LETHER JACKET: LET'S ROCK!
Hello Sunshines!! Today I'll show you the first Christmas gift and other purchases, with a bold outfit, suitable for many occasions, from shopping afternoon with friends to happy hour to cinema night. I wore it for a coffee/working afternoon (possible news are coming :o) ). Any other idea?? ;)
The first garment-protagonist of this look is a fantastic fake leather jacket with quilted effect by Zara (you can buy it in all Zara stores or straight HERE), early Christmas gift from my love. It was his choice and seeing it has been pure devotion!! It's soft and suitable for all seasons, over a warm sweater in Winter and with a cotton tee when it becomes hotter. It's black, so doesn't need particular combos, but its texture gives it a particular and chic style. It has only one flaw: sometimes stitching threads come out, so be careful. With the jacket I wore a maxi plissé skirt by Tally Weijl, bought on sale few days ago, together with a military greem high waist studded sweater, a little more sporty and from the same brand. Another new garment is a black bag bought on sale at Bernardi (an Italian shop). As shoes, my studded ankle boots from Gold&Gold (an Italian brand). As jewels I used a Tally Weijl studded bracelet (I love this brand, isn't it?? :D) and an artisanal ethnic necklace, brought from my dad's girlfriend straight from Africa.
It's a styles mix which combines itself  perfectly…you only need to not exaggerate :)
I let you to judgements and some pics :)
xoxo, Ilaria
---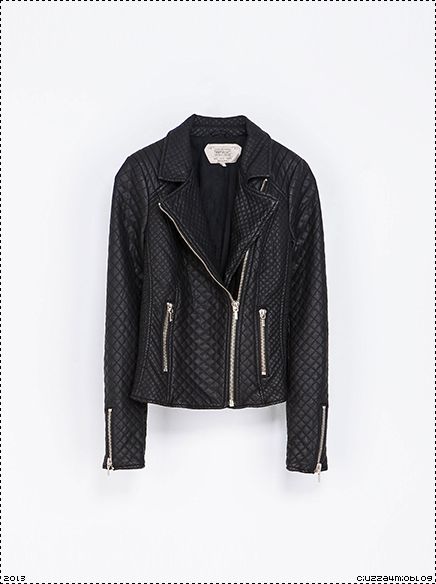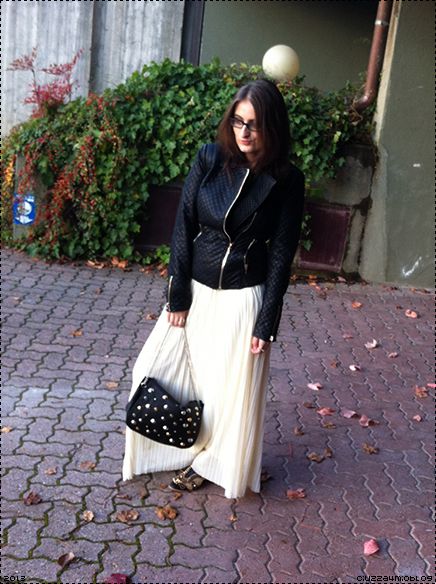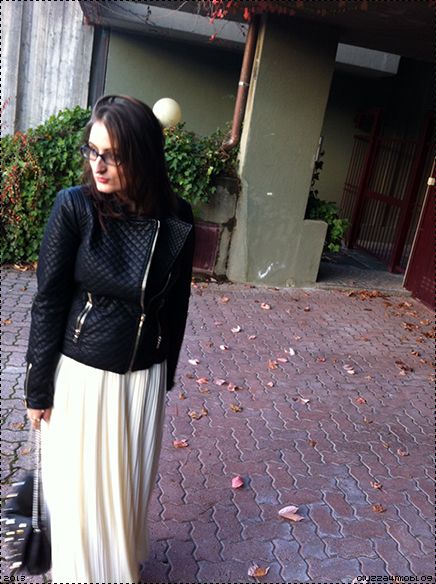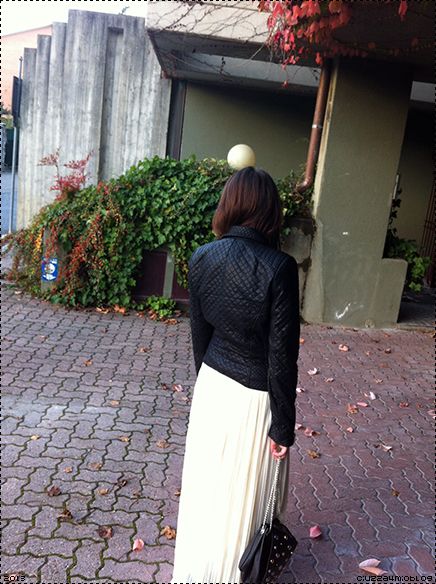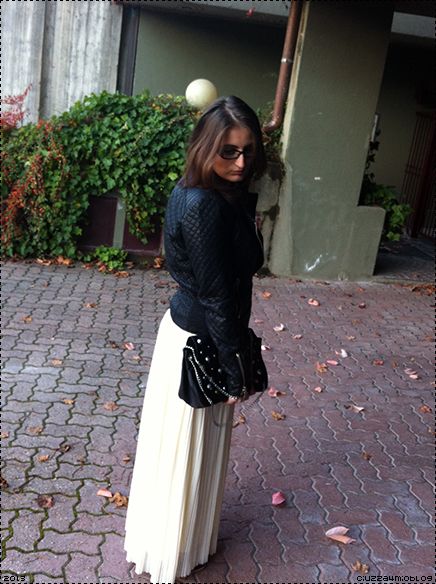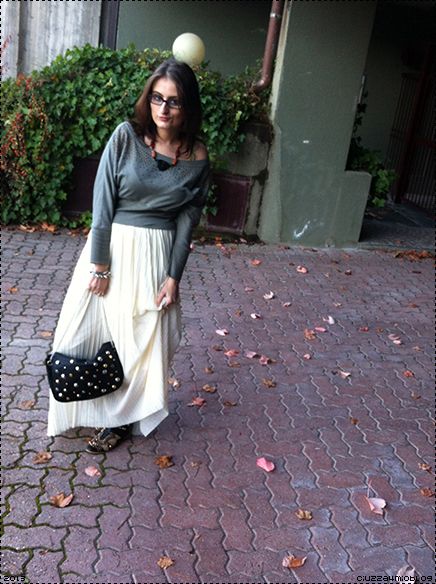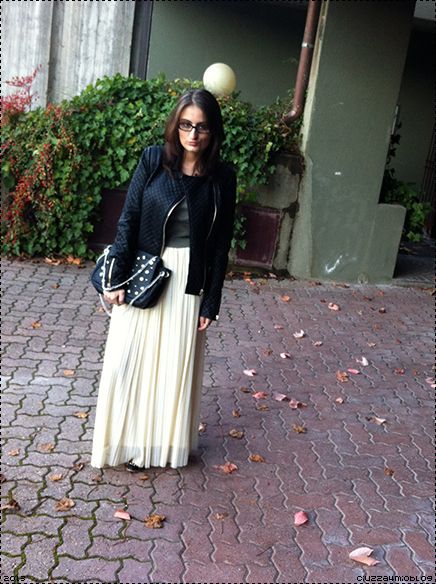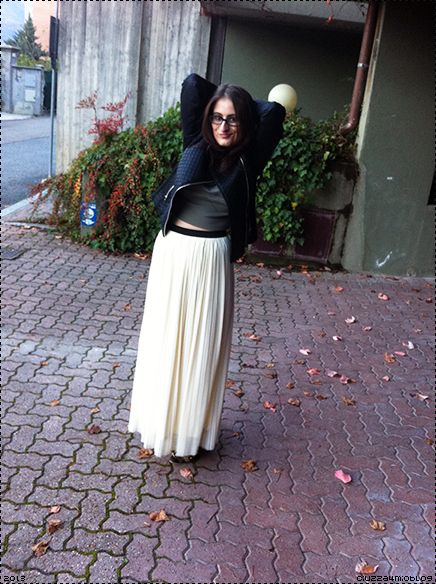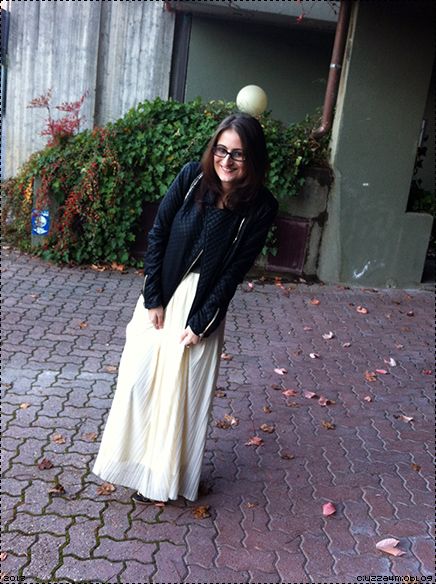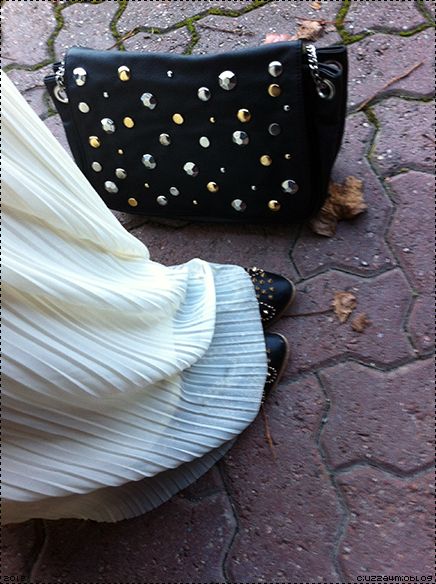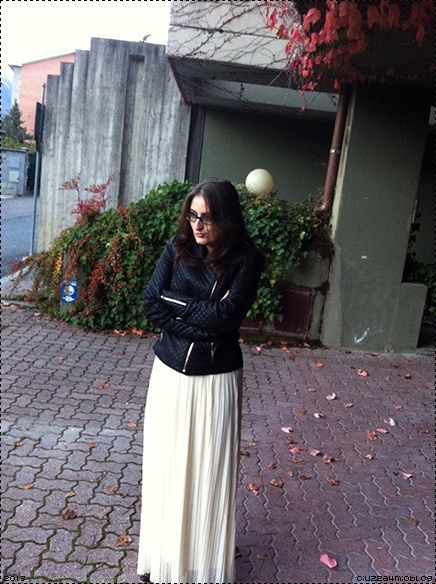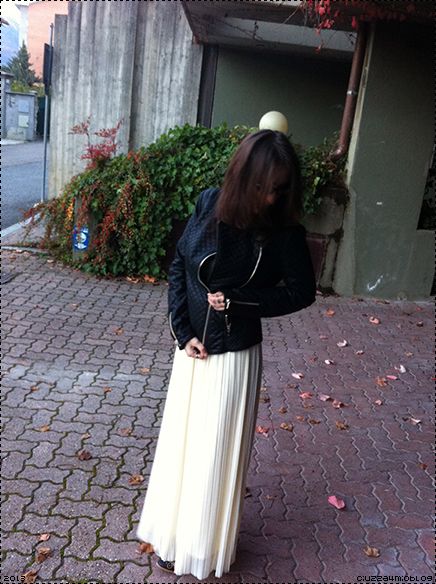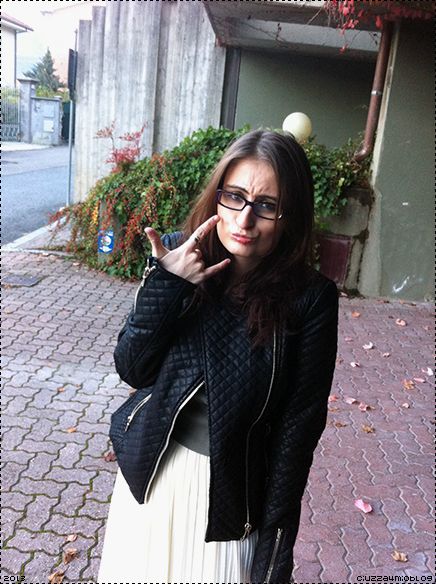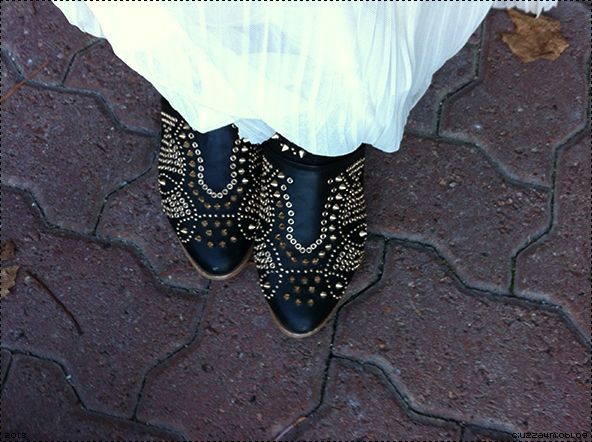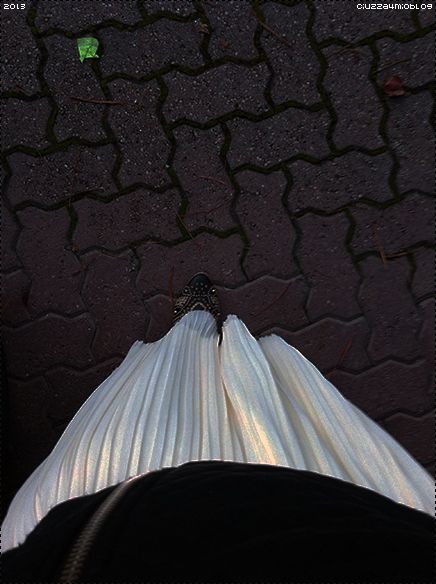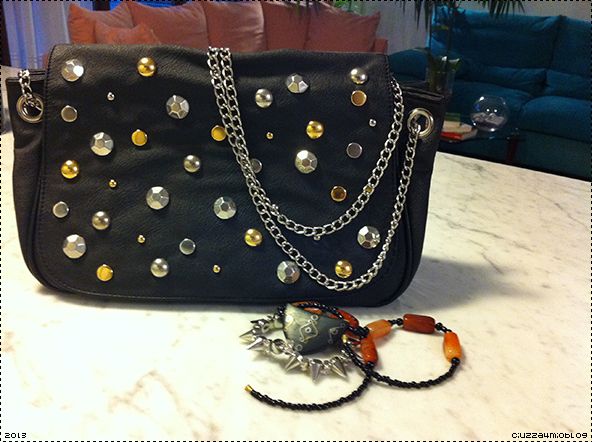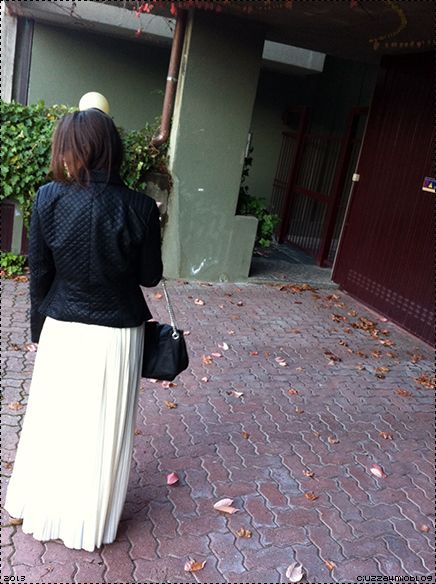 Maxi plissé skirt + Studded sweater + Studded bracelet
Tally Weijl
 (on sale)
Un'altra idea per indossare gonna lunga, stivali e giubbotto? Cliccate QUI, by Irene's Closet
Another idea to wear long skirt, boots and jacket? Click HERE, by Irene's Closet

Click to vote on Cchicisimo

Click to vote on Sbaam
---