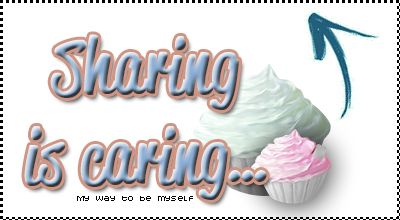 SHEINSIDE
Buongiorno Raggi di Sole! Buongiorno dal mio lettino a casa di papà. Eh sì…è proprio comodo avere un pc portatile :D Ma veniamo al dunque…prometto che dopo questo e un altro post-collaborazione (un'app tutta da scoprire…presto sul mio blog!!) pubblicherò foto e resoconto su Madrid. Pazientate un pochino ancora…il lavoro è lungo e il tempo è poco (mannaggia a sto esame u.u).
Come state? Chi mi segue su FACEBOOK, TWITTER e INSTAGRAM (che aspetti? Seguimi!!! Mi fa sempre piacere conoscere persone nuove :) ) sa che in questi giorni sono presa con diritto internazionale (il 28 ho un esame!! Help!! O.O) e le serie tv (sono malata. Ne seguo circa una trentina o forse di più. E ogni tanto se ne aggiungono di nuove. Aiuto!! O.O). A voi piacciono? Io, da brava linguista, le seguo in lingua originale con i sottotitoli. Con Stefano ho seguito Dexter e ora Castle (lui è adorabile!! Non ricordo se ai People o ai Teen's Choice Awards il personaggio di Castle ha vinto anche un premio come miglior scrittore in una serie tv. Lo adoro!!), Glee (una delle mie serie preferite e Ryan Murphy è un genio. Sì, lo ammetto: ho pianto quando Cory Monteith è morto u.u povera Lea. Il cast è come una seconda compagnia di amici u.u) e Supernatural (aaaaaaaaaaaaahhhhhhhhh mi fanno morire i tre Moschettieri dell'Apocalisse :D), mentre tutte le altre (Pretty Little Liars, The Mentalist, Sherlock, Elementary, Downton Abbey, The Vampires Diaries, The Carrie Diaries – da brava fashionista e fan di SACT, True Blood, White Collar, Revenge, House …come?? Ah sì, è vero. Devo andare avanti con il post. Continuerò un'altra volta :D magari farò un articolo off topic proprio su questo…che dite?) le guardo da sola.
Ma parliamo del post di oggi.Prima di Natale ho fatto un ordine sul sito Choies (dovrebbe arrivare in questi giorni. Presto sul blog) e un altro su Sheinside. Insieme ad altri, sono siti di shopping online low cost che vanno molto di moda tra le fashion addicted di tutto il mondo. Gli articoli vengono spediti da Hong Kong e la qualità si può paragonare a negozi come Stadivarius/Tally Weijl/ecc. Sono i primi ordini online modaioli, poichè fin'ora avevo solo comprato makeup, principalmente dal sito E.l.f. (ve lo stra consiglio). Ieri mattina mi è arrivato quello da Sheinside: una maglia morbidosa con le bocche (detto così suona un po' porno u.u ma non c'è nulla di VM giuro u.u) e una maxi collana blu. Non ho resistito e, approfittandone per fare un giro (e un acquisto da Calzedonia) nel mio paese, ho abbinato il tutto con la mia nuova salopette boyfriend Pull&Bear, presa in saldo a 19.99 € (anzichè 49.99) e desiderata da mesi (domenica sembravo una matta. Il mio stato d'animo: #cisonoisaldivoglioquellasalopettedevosolocontrollaredapimkiemafacciamoinfrettasenopoinoncepiu :p so che qualcuna mi capisce :D).
Questo outfit è sportivo, adatto per lo shopping, la scuola, gli amici, … La collana e il mini bauletto danno un tocco chic, il makeup è fatto solo da un rossetto fucsia intenso comprato a Madrid e steso leggermente anche sulle guance, visti anche i colori e il materiale della maglia, con un paio di decoltée nere classiche al posto delle sneakers, il look si può trasformare in un mix perfetto per una serata informale.
Che ne dite? Aspetto con curiosità i vostri pareri, anche sulla ipotetica versione da sera (idea che mi è venuta sul momento).
Tra poco mi preparo e vado in palestra. Oggi da mamma e si studia u.u
Buona giornata bellezze. Un bacio, Ilaria
Oggi ti consiglio:
– #ootd: Baby, it's cold outside – per superare questo freddo in modo casual e super caldo
– #ootn: Magical Turin – outfit sotto le stelle in alcuni dei posti più magici della mia città
– #holidays: Capodanno 2013 a Roma – in attesa di Madrid, scopri questa città sorprendente
——————————————————-
SHEINSIDE
Good morning Sunshines! Good morning from my bed at dad's home. Well…it's so good having a laptop :D Anyway…promise after that and another partnership post (a very interesting app…soon on my blog!!) I'll publish review and pics of Madrid. You have to wait still a bit…it's a long affair and I have no much time (hate this exam u.u).
How are you? Who follows me on FACEBOOK, TWITTER e INSTAGRAM (What are you still waiting for? Follow me!! It's always nice knowing new people :) ) knows that in these days I'm busy with international law (on the 28h I'll have an exam!! Help me!! O.O) and tv series (I'm mad for them. I followabout 30 or maybe more. Sometimes I start a new one. Help!! O.O). Do you like them? A voi piacciono? As all good language experts do, I watch them in original language with Italian subs. With Stefano, I watched Dexter and now Castle (he's adorable!! Don't remember if at People or Teen's Choice Awards, the character of Castle won a prize as the best tv series writer. I love him!!), Glee (one of my favorite series, then Ryan Murphy is a genius. Well, I have to admit it: I cried when Cory Monteith died u.u poor Lea. The cast is like a second group of friends for me u.u) and Supernatural (aaaaaaaaaaaaahhhhhhhhh!! The Three Musketeers of the Apocalypse make me LOL so much :D), while I watch the others by myself. (Pretty Little Liars, The Mentalist, Sherlock, Elementary, Downton Abbey, The Vampires Diaries, The Carrie Diaries – as fashionlover and fan of SACT, True Blood, White Collar, Revenge, House …what?? Oh yeah, sure. I have to continue my post. I'll continue another time :D maybe I'll write an off topic article about that…what you think?).
Let's speak about the today post. Before Christmas I made an order on Choies (it should arrive in these days. Soon on my blog) and another on Sheinside. Together with other names, they are low cost online shopping websites, very famous among worldwide fashion addicts. The items are shipped from Hong Kong and the quality is like Stradivarius/Tally Weijl/etc. These are the first fashion online orders, as until now I bought only makeup, in particular on  E.l.f. website (I recommend it). Yesterday morning the Sheinside order: a fluffy sweater with lips and a maxi blue necklace. I just couldn't wait anymore, so, for a round (and shopping at Calzedonia) in my town, I matched all with my new boyfriend dungarees by Pull&Bear, on sale at € 19.99 (instead of 49.99), wished from months (last Sunday I looked like crazy. My feelings: #itssalestimeiwantthosedungareesihavetocheckatpimkiebutletsmoveifnotiwontfindthemanymore :p I know there's someone who understands me :D).
This outfit is sporty, suitable for shopping, school, friends, … The necklace and the mini bag give it a chic touch, the makeup is composed by only a full fuchsia color lipstick, bought in Madrid, lightly put also on the cheeks. Furthermore, seen also the sweater colors and materials, I think that with a pair of classical black pumps (instead the sneakers) this look could be a perfect mix for an informal night.
What you think? I'll wait curious your comments, also about the hypothetical night version (a sudden idea).
In a few minutes I'll prepare myself to go at the gym. Today afternoon I'll be at mom's studying law u.u
Have a nice day sweeties. xxx, Ilaria
Today I recommend you:
– #ootd: Baby, it's cold outside – to face this cold in a sporty and super warming way
– #ootn: Magical Turin – a nightlife outfit in some of the most magical places in my city
– #holidays: New Year 2013 in Rome – waiting for Madrid, discover this stunning city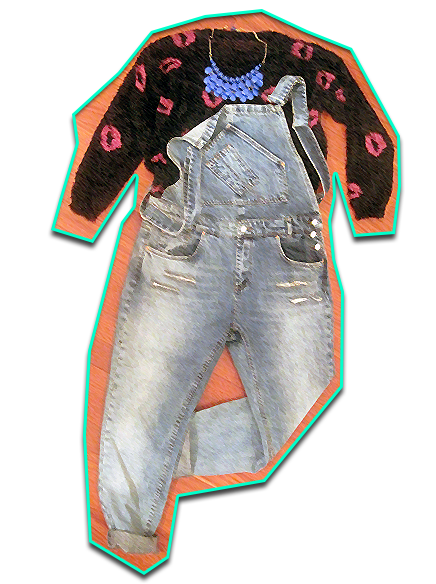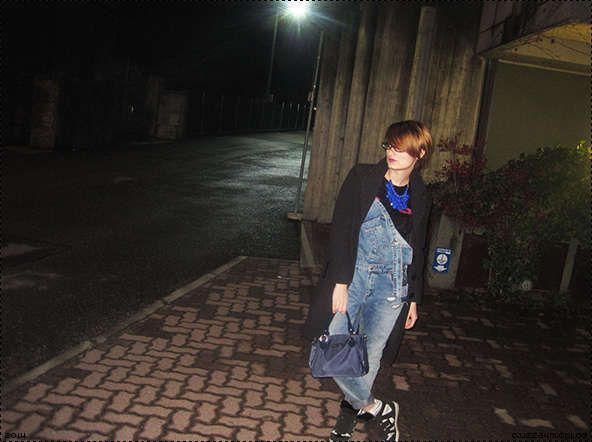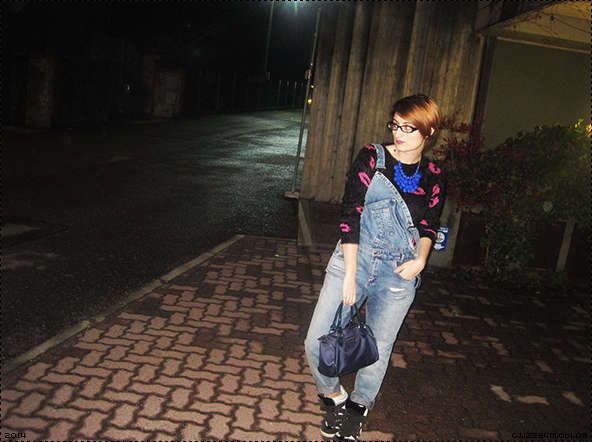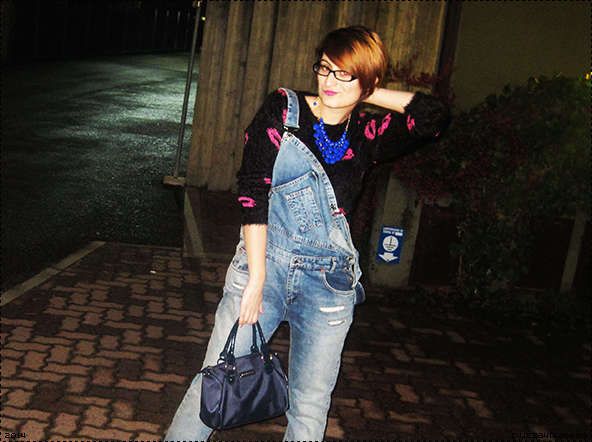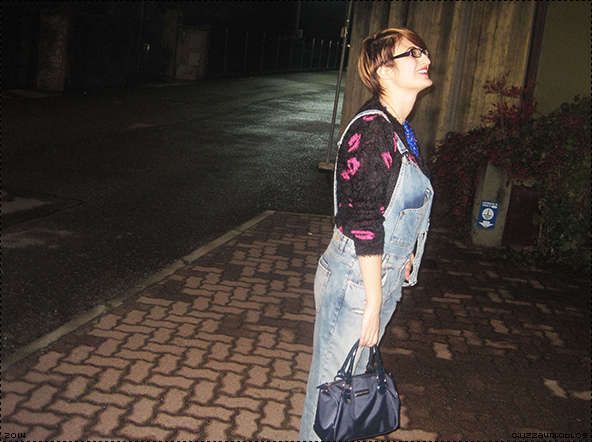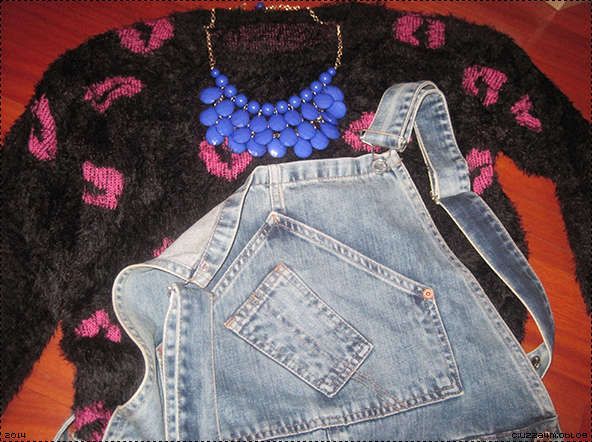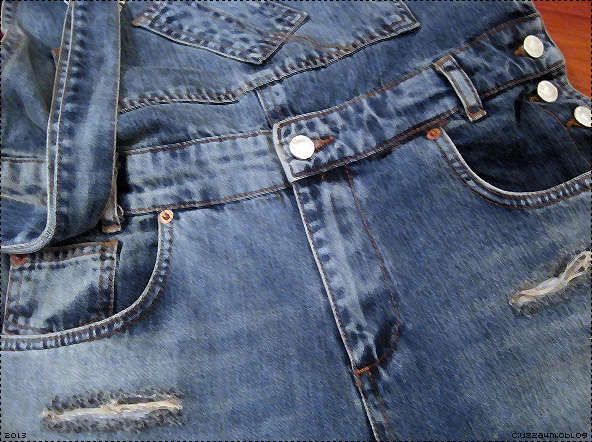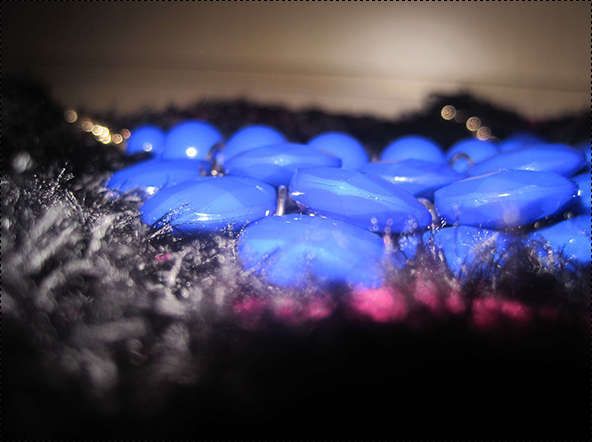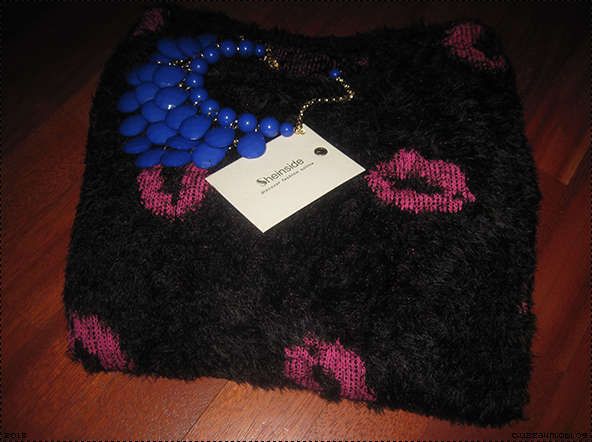 OUTFIT
LIPS FLUFFY SWEATER Sheinside (GET THE LOOK HERE)
MAXI NECKLACE Sheinside (GET THE LOOK HERE)
DUNGAREES Pull&Bear (GET THE LOOK HERE – on sale – and HERE by Pimkie)
WEDGE SNEAKERS Made in Italy (Contigo)
MINI BAG Tally Weijl (old collection on sale)
COAT Zizù La Femme
LIPSTICK Deluxe Cashemere Lipstick – DC32 by Flormar


Click to vote me
on Chicisimo.
VUOI LEGGERE ANCORA? | READ MORE
– OOTD: Baby, it's cold outside