ITALIANO
CACO DESIGN
Oggi ho il piacere di presentarvi un brand davvero sfizioso e tutto Made in Italy.
CACO DESIGN nasce nel 2009 dall'idea di Mariachiara Allegri e Giuliana Archetti. Le due fondatrici sono anche mamme di Camilla e Niccolò, che hanno ispirato non solo il nome del brand, ma anche le mascotte Cami e Cocò, due bimbi stilizzati in pexiglass che adornano tutti gli accessori firmati Caco Design.
Creare, disegnare, giocare. Curiosità, passione e innovazione, ma anche eleganza e personalità. Caco Design mixa il pexiglass con materiali raffinati, come l'alcantara e il filo scozia, e altre decorazioni che rendono i prodotti unici e adatti a qualsiasi età.
Cami e Cocò portano allegria e colore ovunque senza invadere lo spazio personale e definire a priori lo stile. Anzi, il loro essere così versatili fa sentire liberi di esprimere se stessi senza nessun vincolo.
La linea Caco Design comprende braccialetti, collane, orecchini, accessori per cellulari, borse, portafogli, spille, accessori per capelli, decorazioni per scarpe e portachiavi, in stili diversi, da indossare separati o insieme, per un look ancora più energico e originale.
Potete acquistare Caco Design NEI PUNTI VENDITA DEDICATI oppure tramite lo SHOP ONLINE.
CACO DESIGN, GLI ACCESSORI CHE FANNO COLORE
Come avrete capito, l'outfit che ho scelto punta soprattutto sugli accessori. Sono proprio loro a dare colore al look, che gioca su bianco e stampa a righe, un must dell'estate 2014. TEE MORBIDA BIANCA e gonna a palloncino rigata blu scuro. In abbinamento alla gonna, un paio di espadrillas bicolore handmade francese (COMPRATE A BIARRITZ). Come accessori: una collana in stoffa, una MINI BAG (LA MIA PREFERITA…DETTO DA UNA CHE A BALLARE USA SOLO POCHETTE!!) e tre braccialetti Caco Design:
– Cami e Cocò filo scozia colore blu scuro (Collezione Like)
– Cami materiale elastico colore glicine (Collezione Pint)
– Cocò alcantara con campanellino colore giallo (Collezione Tag)
Un look comodo e semplice, adatto a tutti i giorni, ma sempre originale :)
Che dite?? Baci, Ilaria
————————————–
ENGLISH
CACO DESIGN
Today I want to introduce you a beautiful brand all Made in Italy.
CACO DESIGN was born in 2009 from Mariachiara Allegri and Giuliana Archetti, also moms of Camilla and Niccolò, who inspired the brand name and also the two mascots Cami and Cocò, stylised pexiglass kids, which are in all Caco Design pieces.
Creating, drawing, playing. Curiosity, passion, innovation but also elegance and personality. Caco Design mixes pexiglass together with fine materials, like alcantara and filo scozia (type of cotton) and other decorations which make unique products, suitable for all ages.
Cami e Cocò bring happiness and color everywhere, without invading your personal space and defining your style. It's their versatility to make you free in expressing yourself with no boundaries.
Caco Design line includes bracelets, necklaces, earrings, phone accessories, bags, purses, brooches, hair accessories, shoes decorations and key rings, in different styles, which you can use alone or together for a even more energic and original look.
You can purchase Caco Design IN STORES (Italy, South Corea and France) or ONLINE (EU countries).
CACO DESIGN, ACCESSORIES BRINGING COLOR
The main elements of this outfit are accessories. They give color to the look, which is in white and striped print, a real must of Summer 2014. SOFT WHITE TEE and dark blue striped skirt. In tune, a pair of bicolor slippers Made in France (BOUGHT IN BIARRITZ). The accessories: a fabric necklace, a MINI BAG (MY FAV…I WORE IT ALSO AT THE DISCO!!) and three Caco Design bracelets:
– Cami e Cocò filo scozia dark blue color (Like Collection)
– Cami elastic material light lavender color (Pint Collection)
– Cocò alcantara with small bell yellow color (Collezione Tag)
A simple and comfy everyday look, but still original :)
What you say?? xxx, Ilaria
---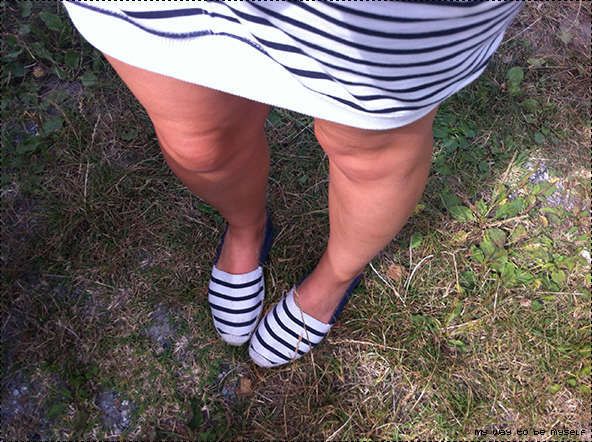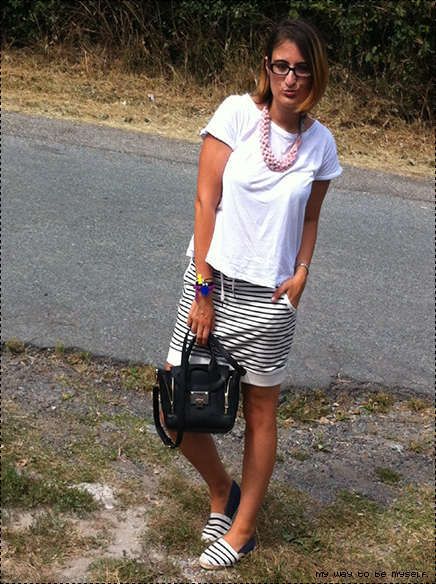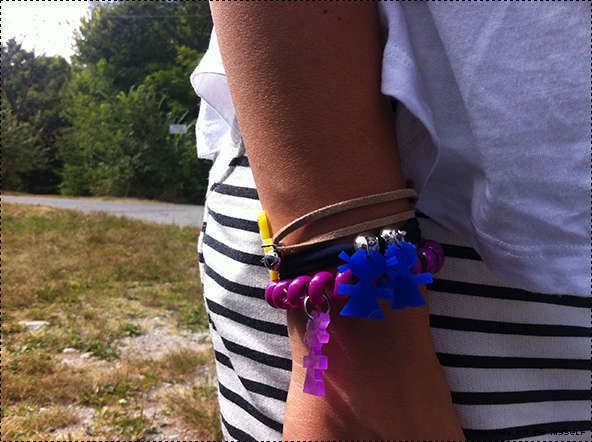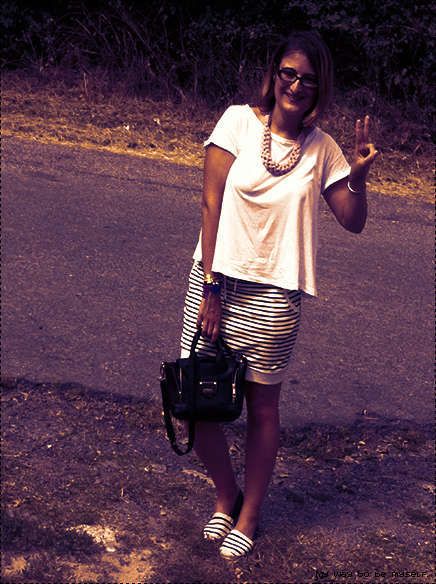 BRACELETS thanks to Caco design (GET THE LOOK HERE | HERE | HERE)
TEE (SEEN HERE) + STRIPED SKIRT a/w 2014-15 (GET THE LOOK | SIMILAR HERE) Bershka
STRIPED SLIPPERS Arin, made in France, bought in Biarritz (GET THE LOOK)
NECKLACE Stradivarius, s/s 2014
MINI BAG Pimkie, a/w 2013-14 (SEEN HERE | HERE)
g
U
VUOI ANCORA LEGGERE? | READ MORE?
– MY WAY TO BE MYSELF 2014 Campaign ©
– FABIO CASCIONE interview (The Apprentice)