ITALIANO
BIRTHDAY OUTFITS I
Buongiorno Fanciulle! Sono un po' impegnata con lo studio, ma troverò comunque il tempo per aggiornarvi :) E a proposito di news…da domani partirà sul blog UNA NUOVA RUBRICA: SHOW BIZ! (VISTO SU FACEBOOK?) Piccole recensioni e notizie sul mondo della tv e del cinema. Che ve ne pare?
Veniamo al post di oggi.  Il 26 maggio sarà il mio Compleanno e il 24 sera farò la festa con gli amici. Quei poveretti che mi sopportano sanno quanto io diventi matta in questo periodo, tra organizzare, trovare il posto, far quadrare il budget, chiamare, …. poi ovviamente qualcuno non c'è, oppure minaccia pioggia (come ogni anno…uff) e io sklero! Chissà al mio matrimonio che farò o.o ok, meglio non pensarci!!
Uno dei "problemi" è il solito di noi donne: COSA MI METTO? Al Compleanno siamo noi le protagoniste indiscusse della serata. "Eccentrico" e "originale" sono due termini fondamentali in questo caso, anche se, badate bene, non sono sinonimi di "vaccheggiare" o "stravolgere il proprio stile e sentirsi a disagio"! Si può essere chic, eleganti, casual, rock o altro e originali allo stesso tempo! Basta un dettaglio, una pochette con le borchie, un tacco 12 particolare, un trucco sgargiante ed ecco che anche un normalissimo jeans+tee diventa perfetto per celebrare…noi stesse! Ok, diventiamo sempre più vecchie, ci sono le rughe, i figli, il lavoro, le bollette, le responsabilità, …. e a molti (come Stefano) non interessa nemmeno festeggiarlo. Liberissimi! Ma se come me amate follemente voi stesse, vi piace stare al centro dell'attenzione, o volete semplicemente cogliere l'occasione per stare con gli amici, questo post fa per voi :)
Vi mostrerò tre proposte outfit (in ordine di preferenza :) ) da cui trarre ispirazione: parto da una serie di articoli e aggiungo accessori e capi di vario genere, medium-high cost. Questo perchè seguire la moda significa anche saper mixare capi da pochi euro con pezzi di haute couture (e viceversa). Lo stile non ha brand o prezzo, ma è un'arte. Chiedete a Stefano Gabbana, o Patricia Field (la stylist di Sex and the city), oppure a Mika (prossimamente vi parlerò anche di lui).
Fatemi sapere. Un bacio, Ilaria
—————————————————
ITALIANO
BIRTHDAY OUTFITS I
Good morning Girls! I'm a bit busy in studying, but I'll find the time to write you :) Speaking of…starting from tomorrow there will be A NEW COLUMN: SHOW BIZ! (SEEN ON FACEBOOK?) Small review and news about tv and tv. What u think?
Here's the today post. On May 26 it will be my Birthday and on 24 there will be a party with friends. Those poor guys know how much I become crazy in thi period: organizig, finding the place, respecting the budget, calling people, …then obviously someone doesn't participate, or it could rain (as every year…pff!) and I go mad! Was thinking…what will I do for my wedding? o.o ok, better don't think!!
One of the common "problems" is: WHAT DO I WEAR? At Birthday we are the protagonists. "Eccentric" and "original" are two fundamental words in this case, but they are not synonymous of "slutting" or "completely changing our style feeling uncomfortable"! We could be chic, elegant, casual, rock, or other ans original at the same time! You need only a detail, a studded purse, a partoicular heel 12, an eccentric makeup to transform a normal jeans+tee in the perfect look for celebrating…ouselves! Ok, we're getting older, there are winkles, kids, job, bills, responsibilities, …. a lot of people (as Stefano) don't care about celebrating. Totally free! But, if you, like me, love "staying on the stage", or simply want the occasion to be with friends, this post is for you :)
I'll show you three inspirational outfits proposals (in order of preference :) ): starting from some articles, matched with medium-high cost pieces. This because following fashion means also can mix low cost stuff with the haute couture (and viceversa). Style has not a price or a brand, it's an art. Ask to Stefano Gabbana, Patricia Field (the Sex and the city stylist), or Mika (coming soon a post about him).
Let me know. xoxo, Ilaria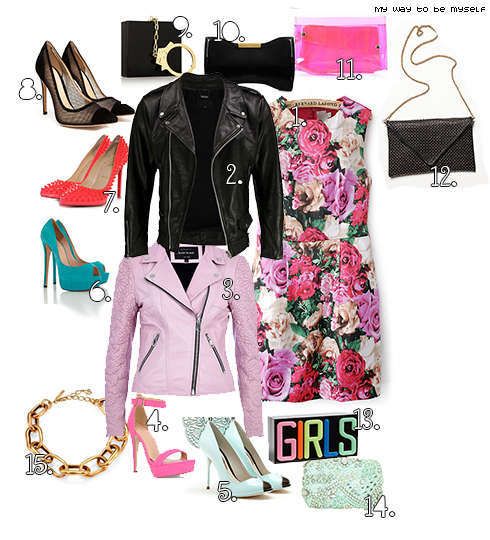 1. FLORAL DRESS
2. Viparo – Black leather jacket for man
3. River Island – Barbie Pink leather jacket
4. Necessary Clothing – Pink sandals
5. Sophia Webster – Baby blue butterfly open toe pumps
6. Celeb Boutique – Blue open toe pumps
7. Christian Louboutin – Patent Pigalle Plato Spikes studded pumps
8. Gianvito Rossi – Black suede + mesh pumps
9. Charlotte Olympia – Handcuff clutch
10. Alexander McQueen – Bow purse
11. Yes Style – Transparent clutch
12. Free People – Vegan leather shoulder purse
13. Charlotte Olympia – Neon sign GIRLS clutch
14. Miss Selreidge – Embellished clutch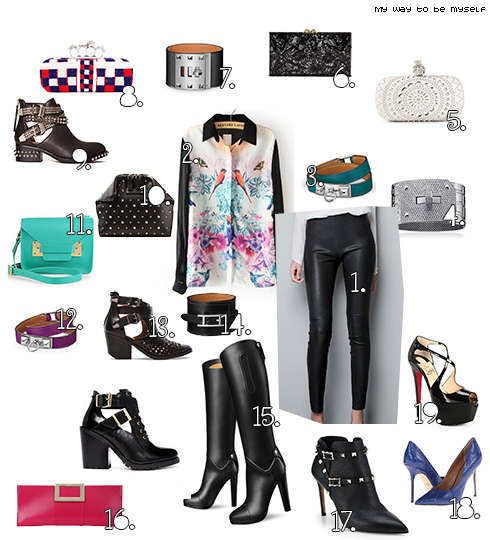 1. FAKE LEATHER LEGGINGS
2. PRINTED SHIRT
3. Hermès – Rivale Double Tour teal bracelet
4. Hermès – Kelly bracelet
5. Alexander McQueen – Skull embellished clutch
6. Charlotte Olympia – Pandora Lacey Box Clutch
7. Hermès – Extrême leather bracelet
8. Alexander McQueen – Embellished clutch
9. Jeffrey Campbell – Everly studded cutout booties
10. Alexander McQueen – Studded leather clutch
11. Sophie Hulme – Mini envelopped bag
12. Hermès – Rivale Double Tour fuchsia bracelet
13. Jeffrey Campbell – Buck Booties
14. Hermes – Fleuron leather bracelet
15. Hermès – High heels horse riding boots
16. Roger Viver – Belle Viver pink clutch
17. Valentino – Rockstud studded ankle boots
18. Rachel Roy – Blue piton printed pumps
19. Christian Louboutin – Exagona platform leather pumps
20. Asos – Leather booties
1. PENCIL PANTS
2. McQ Alexander McQueen – Animal printed shirt
3. River Island – Sequin embellished top
4. P.A.R.O.S.H. – No sleeve top
5. Only – Black blouse
6. Chanel – Vintage printed no sleeve shirt
7. The Row – Fringed purse
8. Givenchy – Leather purse
9. Marc by Marc Jacobs – Jet Set Pets Bunny Clutch
10. Charlotte Olympia – Spider Clusp Clutch
11. Chanel – Vintage black caviar leather duffle bag
12. Valentino – Rockstud  choco studded pumps
13. Valentino – Rockstud nude studded pumps
14. UN United Nude – Double color asimmetrical pumps
15. Charlotte Olympia – Dark Horse fringed tie pumps
16. Kat Maconie – Asimmetrical platform pumps
18. Christian Louboutin – Geo Spike Point pink studded toe pumps
19. Valentino – Rockstud studded ballerinas
20. Elysewalker Los Angeles – Teal pumps
21. Chanel – Vintage heart earrings
22. Chanel – Vintage bracelet
VUOI ANCORA LEGGERE? | READ MORE?
– ECCENTRIC OOTN – Grunge 90s!
– INSPIRATIONAL – Woman wearing pants!
– INSPIRATIONAL – Oh my skirt!
– PARTY OUTFITS – Dreaming Vegas
Comments
comments